New Delhi: At least twenty Indian soldiers were killed in a belligerent encounter between Indian and Chinese forces near the Galwan River in the Ladakh region of "Indian Occupied" Jammu and Kashmir. Although Chinese casualties remain unverified, local Indian media places the figure up to 43, a number Beijing has neither confirmed nor denied.
The Chinese Foreign Ministry did, however, take to Twitter to put forth Beijing's version of the fatal incident that took place in the Galwan Valley. In as many as eight separate tweets, he explained how India's initial provocation was dealt with by an agreement made by commanders under which Indian forces withdrew from China's side of the Line of Actual Control (LAC) and demolished structures on China's side of the LAC which they had previously built in violation of various border agreements between the two countries such as that of 1996.
A spokesperson of the Chinese Foreign Ministry, Lijian Zhao, further argued that Indian forces violated the agreement reached by the commanders in a clear-cut provocation and attacked Chinese official delegates who had arrived to negotiate. In response, the Chinese military engaged in several fierce physical conflicts and inflicted said casualties on their Indian counterparts.
New Delhi was especially slow to respond to this unfortunate chain of events. On Wednesday, Prime Minister Narendra Modi issued a mild statement, refuting Chinese claims of deliberate Indian provocations by claiming that India did not "instigate" the conflict. He strengthened his words by a carefully worded explanation of India's response over this matter: "India wants peace, but if instigated, India at all costs is capable of giving an appropriate response."
This did not go well with the Indian people who are used to their government bashing Pakistan on border disputes and would have been expecting a stronger slap back. Mr. Rajiv Pratap Rudy, a spokesperson of Prime Minister Modi's party, argued on television that the conflict was "with China, not with Pakistan".
Border disputes between China and India go way back. The British rulers of Colonial India did draw some borders to solve disputes, but with the State of Tibet rather than Mainland China which had not yet expanded to India. The most recent major border incident between India and China where fatalities occurred took place in 1962 during the Sino-Indian war. Chinese forces advanced against the Indian military, inflicted a humiliating defeat upon the patrolling units, and drew new borders, as they pleased. However, they later withdrew, and the status quo resumed.
It is also worthwhile to note that since the 1996 and 2005 agreements called on both border patrol teams not to use firearms in potential clashes, the brawl took a brutal shape, for it was fought with stones and bamboo sticks fixed with nails. Consequently, local Indian media outlets have claimed that the Indian soldiers were beaten to death.
Reports like these have sparked outrage all over India. Not to mention, the International balance of power may just have been disturbed. If the issue prolongs, Pakistan may not escape unscathed, especially with its pro-Kashmir foreign policy. If India's authority is diminished, China's influence may well go unchecked in South-East Asia, something the US would be interested in, and the terrible terrain coupled with the impossible logistics for a full-scale war could drag Pakistan into a full-scale battle too since it has stakes in the region as well, particularly at the Siachen Glacier that shares a border with both India and China.
If India's authority is diminished, China's influence may well go unchecked in South-East Asia, something the US would be interested in…
A growing number of Indians are calling for an economic war against their northern neighbours by boycotting Chinese products and calling for the government to halt Indian exports to China. However, economic experts believe this will hurt India more than China. The Times of India, a prestigious newspaper, explains that China caters for more than ten percent of India's trade, making it India's second biggest trade partner, while India only accounts for two percent of China's trade, and is China's twelfth biggest trade partner. Chinese investments in the form of companies such Huawei form an integral part of Indian infrastructure in communications and other sectors.
Images on social media show how Boycott China products originate from China, demonstrating the importance of Chinese industries in the Indian economy which serves to show that in the event of a complete boycott, India's economic sector may take a major hit which could prove disastrous with the ongoing Covid-19 pandemic which requires more cash to be dealt with.
What comes as a surprise is the United States' silence on what social media quickly labelled as the "The New World War III" in reference to US-Iran tensions earlier in the year. Some would interpret this silence from the United States as a sign of its admission of China's supreme influence in the region, but the Trump administration, already lagged with an out-of-control pandemic and John Bolton's new revelations, might still be assessing the situation, and we must not rule out America's role in a potential conflict.
Much closer to home, Pakistan's response is one to look for. Pakistani Foreign Minister Shah Mahmood Qureshi tweeted "…we remember the thousands of Kashmiri women & children, victims of sexual violence perpetrated by the Occupation Forces of India for decades in infamous "Cordon & Search" Operations" on June 19 on the occasion of the International Day for Elimination of Sexual Violence in Conflict.
Tweets like these, coupled with the intense debauchery of arms, reminds the panic stricken world that the Kashmir issue still remains and is more complicated than ever. Whether or not it was the Modi Administration's intention as the COVID-19 pandemic enveloped the planet, political problems fell to second priority, and issues like these remind us how our nation-wide lockdowns only show a glimpse of what Kashmir is actually going through as we approach the first anniversary of the revoking of "Indian Occupied" Kashmir's special status.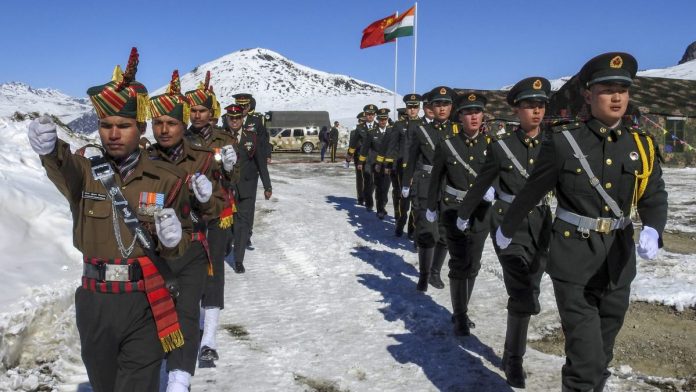 If China was indeed behind the events of the past few days, it may be to divert international attention away from its role in the global pandemic and towards the Kashmir problem where multiple parties try to dictate its destiny without any regard for the native people.
The pin of the grenade, in a culmination of tensions, may not be popped open by China, or India or Pakistan. Militant groups such Hizb-ul-Mujahideen, Jaish-e-Muhammad and Lashkar-e-Tayyaba may step into the playing field, and if they do so, the confusion and chaos will reach new heights as these groups do not have standing army, meaning whatever terrain they have an advantage in, becomes their battlefield. Their aims usually clash with sovereign nations, so they might wage a war against anyone and everyone who doesn't support them enthusiastically. The Afghan Taliban announced in May their intention to wage 'Jihad' against the Republic of India; threats like these will make any government paranoid if they believe in the possibility of the threat becoming a reality.
The real tragedy is how it is surrounded by a trinity of nuclear powers all with aims vested in a poorly developed region, and any solution will certainly involve a call to arms which would destroy the lives of countless Kashmiris.
As many people have said throughout decades, the Kashmir issue still stands as unresolved as it was 73 years ago. The real tragedy is how it is surrounded by a trinity of nuclear powers all with aims vested in a poorly developed region, and any solution will certainly involve a call to arms which would destroy the lives of countless Kashmiris. But as of yet, two of the stakeholders in the land have their fingers pointed at each other while the third will no doubt have a say in what happens, sooner or later.