"Slavery is not a horror safely confined to the past; it continues to exist throughout the world, even in developed countries… Across the world slaves work and sweat build and suffer"- Kevin Bales, author, and modern abolitionist.
Human trafficking, a crime against humanity as a whole, is a reality we must face. It jeopardizes the very principles which form the foundation of our society.
Karimova, 22, forced to work as a sex slave for 18 months in Kyrgyzstan, was lucky enough to escape but thousands are unable to, resigning themselves to a lifetime of helplessness.
Saudi Arabia is bound to be mentioned with human trafficking having been a destination country for men and women subjected to forced labor, and to a lesser extent: forced prostitution. Some migrate and others are illegally recruited and forced into domestic servitude and debt bondage. 11 million foreign workers in Saudi Arabia are most likely to be the target of human trafficking, especially women who work as domestic servants, confined to private residences and subjected to employer abuse. These workers belong from states such as Pakistan, India, Indonesia, the Philippines, Sri Lanka, Bangladesh, Ethiopia, Eritrea and Kenya. Simultaneously, innocent yet unaware children from Yemen and Afghanistan are trafficked for forced begging. An example of a horrendous such case may be Leticia, a Nigerian woman, who was trafficked to Saudi Arabia and forced to work from early hours until late, while suffering the misery of sexual assault at the hands of her husband. Having managed to escape, she realized how she was saved from years of forced servitude.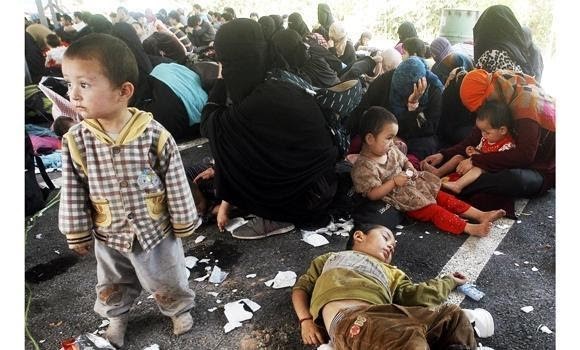 Saudi Arabia's law states that foreign workers require permission from their employers in multiple aspects of their life, leaving them unable to return home, and enforcing them to work well past their contract, in light of their employer's refusal to grant them permission. Such laws deserve to be critiqued to ensure accountability.
Saudi Arabia, according to the US, has been removed from the list of worst human trafficking offenders and now has a Tier Two in the list, signifying that though the Saudi government is attempting to combat human trafficking, it has not implemented all the reforms necessary to root out the problem.
The Saudi law does prohibit human trafficking, however, at the same time it lacks the authority to criminalize trafficking offenses. Moreover, foreign workers do not fall under the category to be protected by the government's labor laws and hence, such offences are settled majorly out of court though mediation.
The lack of prosecution regarding human trafficking offences may be chalked up to a number of factors. The major ones being; mistrust in the judicial system and Saudi Arabia's reputation as a religious state governed by the laws of Sharia with strict implementation of laws which regard prostitution as adultery, severely punishable by the Kingdom. Adding on to it, inadequate protection of victims hinders the prosecution of suspected offenders but the victims are also susceptible to prosecution.
The more noticeable attempts to counter trafficking may be the 'Suppression of the Trafficking in Persons Act' 2009 which declares trafficking punishable by up to 15 years of jail or a million riyal. Moreover, it guaranteed protection, although limited, to the victims. Additionally, a law in 2013 was passed in attempts to regulate the relation between the employer and the worker. However, the human right situation in regards to human trafficking is skeptic about these efforts as these laws are not successfully enforced. Some even denied that these processes were an opportunity for relief.
Recently, the Saudi government has started participating actively in eradicating this inhumane practice which is considered a 'milestone'. The National Committee to Combat Human Trafficking is said to be the driving force behind this step in the right direction. This particular committee is a combination of key ministries assisted by international organizations such as the UN Office on Drugs and Crime.
The National Committee to Combat Human Trafficking's (NCCHT) National Referral Mechanism aims to combat human trafficking by introducing a framework which relies on co-ordination between government officials and provides guidelines on how to handle trafficking cases, provide protection to victims, prosecute suspects and thwart attempts of future practice of human trafficking. The NCCHT has started to train health professionals, labor inspectors and civil society representatives so they are able to discern the signs of human trafficking and guide the response staff on how best to handle the situation. It also coincides with a digital reporting mechanism, with a 24/7 hotline and mobile application under development, allowing the residents of the Kingdom to report suspicious activities regarding human trafficking.
"Human trafficking is an affront to the dignity of all humanity," said Awwad Al-Awwad, chair of the NCCHT and president of the Human Rights Commission. "It is our duty to eradicate this heinous practice and the launch of the National Referral Mechanism is a major step to that end."
"Today is about honoring the victims and potential victims of trafficking and renewing our pledge to eradicate this heinous crime" said Awwad Al-Awwad.
Awwad Al-Awwad added how this mechanism will further be aided by reforms to make the quality of life better.
The committee already has been in contact with 3000 recruitment agencies to ensure the adoption of the necessary measures which are up to par with international standards. Another initiative worth mentioning is the introduction of specialized panels which allow the prosecution of those who commit such heinous crimes, to a greater extent.
Judge Hatem Fouad, the office's representative for the Gulf region mentioned how the UNODC is glad to celebrate with their Saudi counterparts on such 'momentous improvement and notable successes' achieved in the last year.
"The tangible achievements of the Kingdom reflect its commitment to engage with the UN in a concrete partnership that moves toward even greater reform. Despite the COVID-19 lockdowns, our collaborative work and training continues at an accelerated pace", he continued.
The most recent report makes it clear that even if the status has improved from tier 3 to tier 2, the Saudi government has some ways to go before they can completely defeat human trafficking.
"We are the first to admit that there are some areas in which we can still improve – but we are confident that we are on the right trajectory," Judge Hatem Fouad said.